Before the snow really started flying I tossed around the idea of sewing up a transitional jacket for O. Something that would work through the Fall and Spring. Now we live in the Northern end of the Midwest- Fall and Spring are no joke, I would need something he could wear a couple layers under. I started my pattern search.
My search went something like this: fun girl's jacket, cute girl's jacket, boy's pea coat, unique girl's jacket, still different style girl's jacket, boy's pea coat, repeat….
I don't have anything against pea coats it just wasn't what I was looking for. So I complained on Twitter, what else is a girl to do. I was directed to the Cowlneck Pullover Jacket.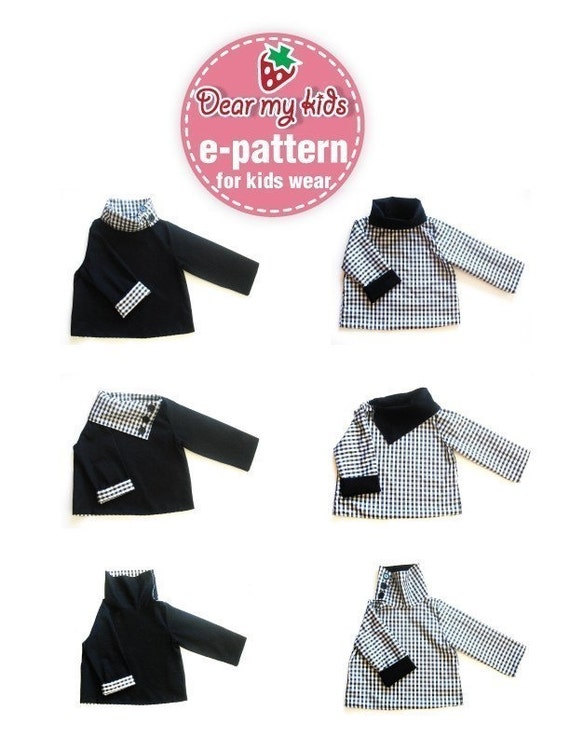 Anyone who has sewn clothes for boys has felt their choices were kind of boring. So you can imagine this pattern caught my eye. It's reversible, can be worn a number of different ways, and I admit I like it when I can use a pattern for his little sister too.
The Prep
I bought the pattern on Etsy, so no instant download, but it was emailed very quickly. The file opened, printed, and pieced together very nicely. Read over the PDF before you print, there are a number of pages with a lot of ink you likely won't want/need to print.
I pulled the sizing chart and got worried, really worried. This pattern is advertised 12m-6T. My measurements put him in a 6T. He is still hit or miss on whether 4T is too big for most patterns.
That seemed like a big leap so I made up a quick muslin. I didn't do the whole jacket, I just put together a jacket shell real quick. I decided on the 5T. I have a nice plaid and flannel combo waiting for this project- but still really nervous about the sizing I sewed up a fun version first. Just in case it was small…or huge.
I used a cotton superhero print. (He's into Spiderman) and a light red flannel. I picked these up on super sale at my Joann's.
Fabric Selection
Based on my experience I think a fabric with more body than cotton will give you a nicer result. I think just a little bit of give/stretch in your fabric would be nice in a couple places.
Pattern Review: Sewing Instructions
Get really clear from the start what is the lining and what is the exterior. I started out thinking one thing and changing my mind as I sewed. This left me really confused as I sewed. The biggest difference in the end is how your buttons will be seen.
Yes I did fussy cut Spiderman into the collar.
While at first the diagrams seem really clear there are a couple tricky spots that can be confusing. Specifically I think the image is a bit misleading when you are attaching the cowl portion. Pin and turn before you sew when in doubt.
Mark the back of your garment with a pin or fabric chalk. It rapidly becomes hard to tell which piece is that back and it's very important for construction to know that.
 Things I Liked
It was a fast sew. Even if you consider I had to rip and resew one of these necks, it didn't take long to get this sewn up. It does look like the  advertised image, even if my 3 year old wasn't interested in taking it on and off to see all the options!
The 5T sleeve worked pretty well. You get some forgiveness because you can make that cuff as big or small as you need.
The Drawbacks
The directions called for creating a open V on one shoulder. I may have overcompensated knowing my kid's head isn't tiny. Bottom line I don't like what that opening does to the neckline. You can see below how wide it makes the neck opening, especially when the collar is open. I didn't need it, he pulled the jacket on and off without undoing all the buttons. I would leave a 1/4 of the shoulder seam open instead of 1/2.
It's shorter than I thought it would be. If I sewed it up again I would go at least 6T length or draft my own pattern "extra long". It's a bit hard to tell, but  the 5T is hitting him just below his waist.
 Issues Not the Pattern's Fault
He doesn't like it. So that's an issue! Because of the weather he is frequently bundled and zippered up in things, but for some reason he found this neckline really smothering. He wouldn't be convinced otherwise. He is ok with it when the collar it all the way open, but that is about it.
Bottom Line
I would recommend this pattern for people who aren't worried about having to draft extra sizes, or tinker with the ones given. If you have experience with reversible garments that is a definite plus.
I wouldn't recommend this pattern to people who are uncomfortable doing intuitive sewing to get past a few steps light/confusing on the directions.
I'm not placing this one in the solid win category. But if he decides it's ok to wear, I would make another one. I may make one for his sister for the spring.
Do you have a favorite boy jacket pattern?
PS See all our Sew You Had a Boy Posts HERE.